Cat® Motor Graders For Rent in New York & Connecticut
Cat® motor graders are packed with industry-leading features that will help you get your job done better and faster. They are the perfect choice for grading and leveling surfaces.
At H.O. Penn, we offer low-hour, high-quality Cat motor graders for rent that will increase your job site productivity with exceptional results and reliable performance.
Request a Rental Quote!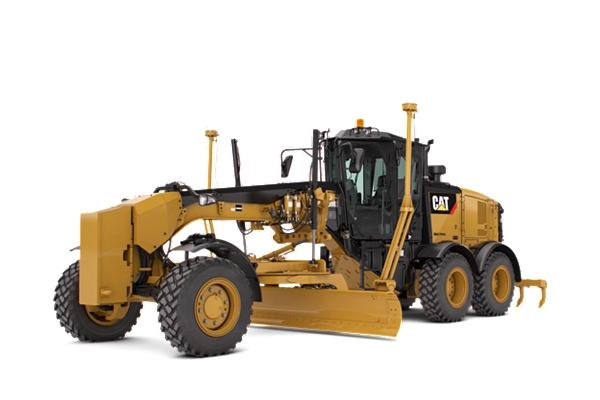 12M3 AWD Motor Grader
Operating Weight - Typically Equipped

44614 lb

Base Power (1st Gear) - Net

179 HP

Maximum Depth of Cut

28.1 in
View Full Specs
Cat Motor Graders for Rent
Cat motor graders offer innovative technology, comfortable cabs and efficient capabilities that set the standard in the heavy equipment industry. These machines include premium features such as:
An advanced hydraulic system for maximum power and fuel efficiency.
Superior safety technology, including perforated guard rails, drop-down rear lights and hydraulic lockout.
Operator stations designed to reduce fatigue and improve performance with features like air-ride seats and hydraulic joystick controls.
Blade float technology that provides precision control for grading hard surfaces and following contours.
Benefits of Renting Cat Motor Graders
If you need to tackle a temporary project that requires capabilities beyond those of your current fleet, a motor grader rental is an ideal solution. Renting is an excellent choice in many situations, such as keeping your project moving while your primary machine is in for service or trying equipment before you commit to long-term purchase expenses.
H.O. Penn can provide you with the superior rental equipment and services you need to get your job done. Among the many benefits of renting from us, you can expect:
Flexible rental options: Whether you need your motor grader rental for a week, month or longer, H.O. Penn offers flexible rental terms to accommodate you.
Competitive pricing: We offer competitive rental pricing so you can get the best deal on the best equipment.
Easy reservations: To reserve your motor grader rental, submit our online form and we will be in touch promptly to confirm your details.
Available on-site delivery: We offer on-site equipment delivery to save you time and resources and streamline the rental process.
Great customer service: Our friendly and experienced rental staff has in-depth knowledge of our inventory and can help you find the right machine for your specific project. We also provide continued technical support and service for the duration of your rental, and we will quickly address any questions or concerns that may arise.
Choose H.O. Penn for Your Motor Grader Rental
H.O. Penn is your friendly, professional source for Cat motor graders for rent in Connecticut and New York. When you're looking to increase your productivity or tackle a new project, a motor grader rental has the capabilities you need without the financial commitment of buying a machine outright.
To inquire about reserving a motor grader, please submit a request using our online form. A representative will be in touch promptly to help get your reservation started. If you have any questions or would like more information, visit us at one of our six convenient store locations or give us a call at 845-448-0018.
Request a Rental Quote!